Cabin Facilities
All cabins have electricity, with stoves, microwaves, and refrigerators. Cabins can be rented individually, or in groups. Our cabins are historic in nature and used for recreation; they do not have air conditioning or central heating. Ceiling fans are present in most cabins; fireplaces and woodstoves are available as indicated in the listings for each cabin.
Cabin 2 has no sleeping facilities, and is available to all camp renters during their stay. If there are other renters present when you are at camp, please share the use of Cabin 2. Electricity may fail during snow, ice, and thunderstorms, but is generally restored somewhat promptly. For more information, contact the Registrar, Tina Fox, at registrar@rapidancamps.org.
Cabin 1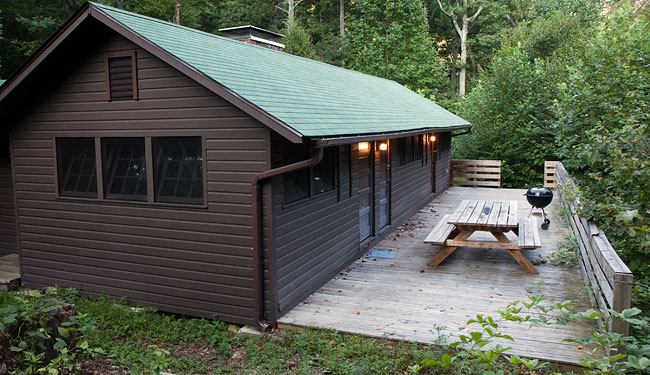 Rebuilt in 2008 to replace original cabin
Sleeps up to 8:

1 queen bed
1 double bed
4 bunk twins (2 sets)

Original open stone fireplace with woodstove insert
Small kitchen suitable for up to 4 people, with priority use of Cabin 2 lodge for larger groups
2 bathrooms with shower
Charcoal grill off deck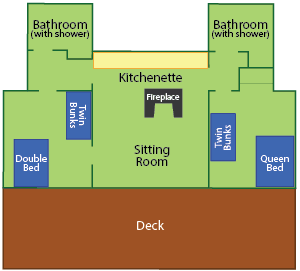 Cabin 2
Original 1930 cabin built by US Marines
Large kitchen and community room for use by all campers
Half bath
Original open stone fireplace
Original stone fireplace with woodstove insert
Combination charcoal & propane grill—you must bring your own charcoal or propane
Cabin 3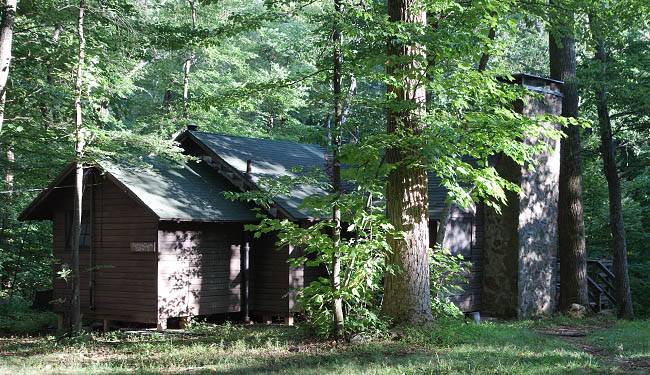 Original 1930 cabin built by US Marines
Sleeps up to 10:

4 double beds
2 bunk beds with double down and twin up

Original open stone fireplace with woodstove insert in main room
Wood/coalstove in bedroom
Kitchen
Bathroom with shower
Charcoal grill off deck
Cabin 4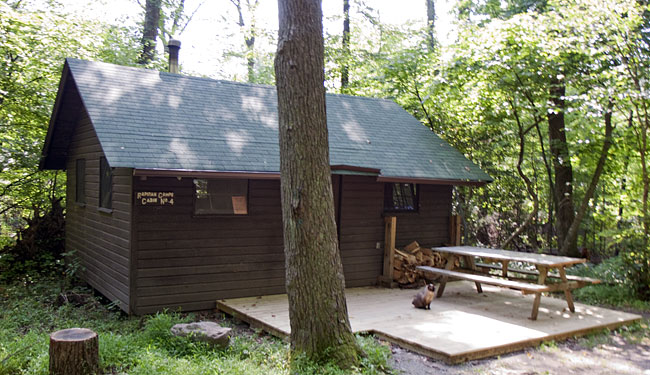 Original 1930 cabin built by US Marines
Sleeps up to 6:

1 single daybed with pop up single—converts to queen
1 bunk bed, with 2 twin beds and a single trundle under

Woodstove
Kitchen
Bathroom with shower
Charcoal grill off deck
Cabin 5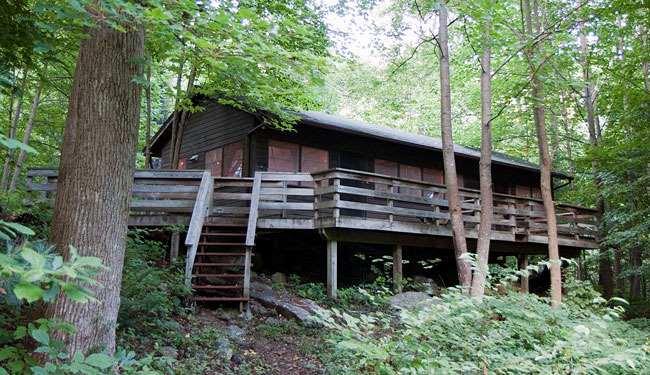 Built in 1992
Sleeps up to 5:

2 double beds
1 twin beds

Original stone fireplace with woodstove insert
Kitchen
Bathroom with shower
Water
Hot and cold running water are generally available inside the cabins during the warm season (mid-April through late October). The water comes from a nearby spring. It is encouraged to boil spring and river water for 3 to 5 minutes before use.
Fires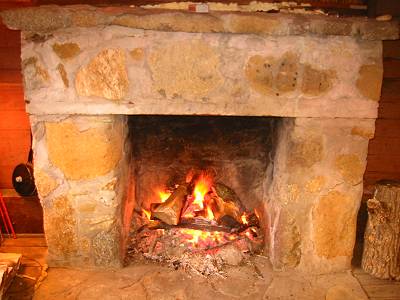 Cabin 2 has a large stone fireplace. Cabins 1, 3, and 5 have woodstoves with glass doors.
Fires may be built only in fireplaces, woodstoves, and established outdoor firepits. Fires must not be placed directly on the ground. You should bring your own wood, or gather from the surrounding area wood that is both dead and fallen. The drier your wood, the more efficiently it will burn and the warmer you will be. Leave some dry wood in the wood rack outside the cabin for the next visitor. Ashes from fireplaces and woodstoves pose a lingering fire hazard, and must be dumped on the main road past camp, or carried out with trash.
Parking
Motor vehicles must not be operated off road. (Do not drive up to the cabins!) Obey posted signs.
Firearms, Hunting & Fishing
No hunting or use of firearms within 100 yards of camp property at any time. Virginia fishing regulations apply to the Rapidan River.
Garbage
Burnable trash such as paper and food scraps can be burned in fireplaces and woodstoves. You must take back all garbage you generate—there is no refuse collection at camp.
Tentsites
We do not currently permit tent camping on our property, except for individuals renting cabins who have special permission from the Registrar.
Woodland Viruses
While rare, West Nile Virus has been reported in the mid-Atlantic states. Everyone should take appropriate precautions when in areas where mosquitoes may be found. Information concerning West Nile Virus, and precautions you can take against contraction may be found on the Centers for Disease Control (CDC) website at http://www.cdc.gov/ncidod/dvbid/westnile/qa/overview.htm
Hantavirus is also occasionally found on the east coast, although it is much more prevalent in mountain and western states. Deer mice carry the virus, and you should be careful to avoid breathing air from stirred-up rodent droppings or nests. More information about Hantavirus is available from the CDC at http://www.cdc.gov/ncidod/diseases/hanta/hps/noframes/transmit.htm.