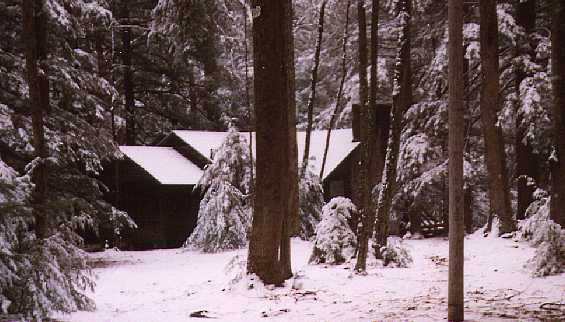 Cabin 3 in late December, 1993
The Rapidan cabins were not constructed for use in cold weather; Hoover's administration was absent in the winter. Nonetheless, many people stay at Rapidan Camps during the winter (and we have a wonderful time doing it). It is very important that you be prepared for a winter camping experience. You should not go to Rapidan Camps in the winter unless at least one of your party has become familiar with the camp during the summer.
Non-members may reserve cabins in advance during the period from late October through mid-April. (For more information about reservations, see the Reservations page.) This period also includes most hunting seasons that apply to the Rapidan Wildlife Management Area.
Water
Piped-in water is generally unavailable from late October through mid-April, to prevent damage from pipes freezing. If the water is turned off when you arrive at camp, and you attempt to restore water flow, we will bill you for all plumbing and cabin flood damage that results during and after your stay.
Drinking water is almost always available at the spring itself, 1/4-mile up the road, through a pipe. You should bring milk jugs or other containers to carry water back to camp and store it there, or bring your own water supply. (The same warning applies to this spring water as to the water piped in during warm months—you should bring it to a boil before drinking, washing dishes, or use another commercial filtration or purification system.) We have replaced countless heating elements after campers have tried to activate the water heaters when there was no water in them. Do not attempt to use the water heaters if tapwater is not flowing. If the water happens to fail while you are at camp, please turn off the water heater at the circuit breaker box or auxiliary power box. When water isn't flowing, you may wish to flush toilets with river water instead of spring water, because it is sometimes easier to obtain water from the river near cabin 5. (You should never drink water from any river or stream without treating it, so keep river water separate from drinking water.) Toilets are flushed by pouring a bucket-full of water into the bowl. When you leave camp, and on extremely cold nights, pour into the bowl a half-cup of environmentally-benign anti-freeze. Do not ever pour anything into the tank—only the bowl.
Winter Supplies
Remember that the mountains are much colder than the valley. (A general winter rule-of-thumb is that the temperature is about 15 degrees colder at camp than listed for downtown Washington.) Bring ample warm clothing and bedding; sleeping bags suitable for cold weather are recommended.
Hunting
Hunting is permitted in the Rapidan Wildlife Management Area just outside camp for most of the winter. Virginia hunting seasons and laws apply there. Hunting is prohibited at all times on Rapidan Camps property. We take care to rent only to responsible hunters. If you see anyone behaving irresponsibly with a gun on camp property, please let us know; contact the registrar, JD Foster, at registrar@rapidancamps.org.
With proper preparation, one can enjoy winter camping.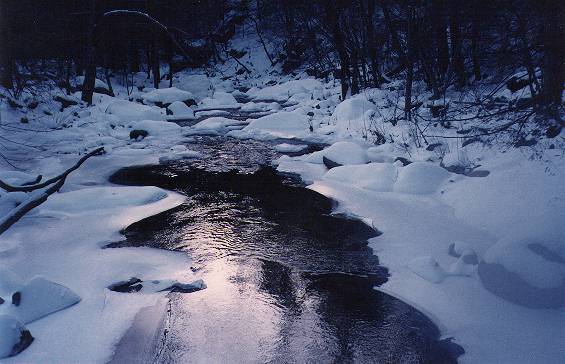 Ice and snow on the Rapidan River, viewed from the (former) lower bridge in late December, 1995.